Red, Pink and Yellow Roses in a Blue Vase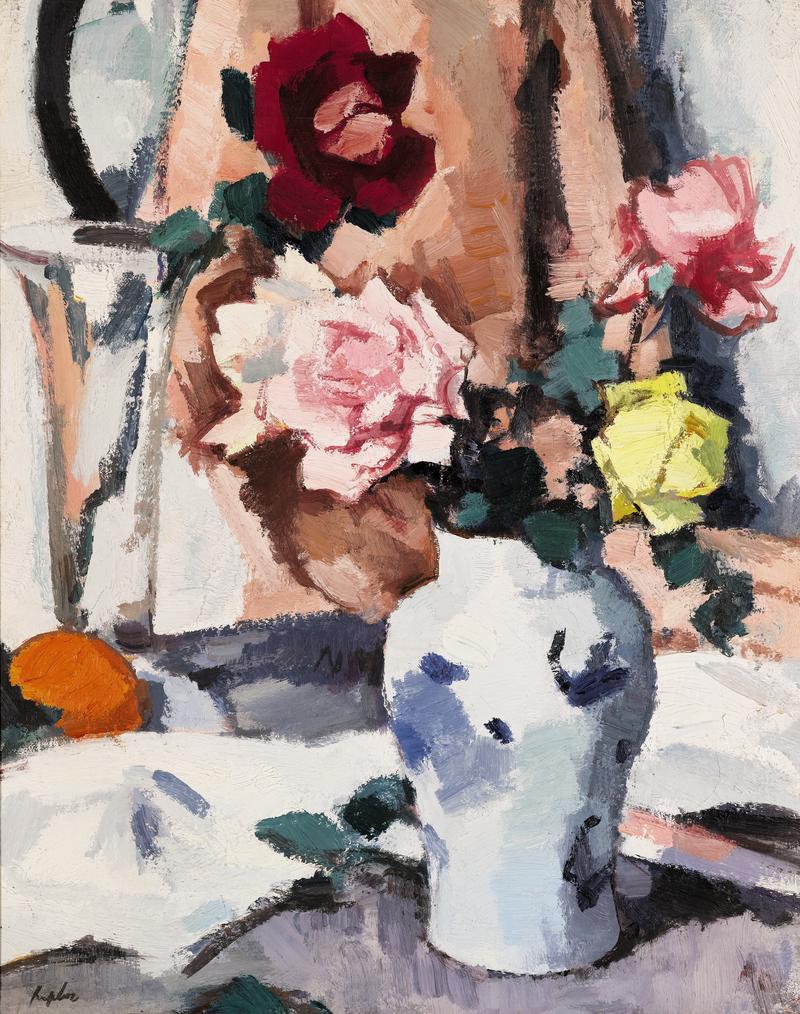 Samuel John Peploe
(1871-1935)
Red, Pink and Yellow Roses in a Blue Vase
Signed lower left: Peploe. 1920 - 1925
Oil on canvas
51 x 40.5cm., 20 x 16in.
Private Collection c/o Grant Ford Ltd
Exhibition
Alex Reid & Lefevre, Ltd., London, Three Scottish Painters Exhibition, January 1939, no.5
The Fine Art Society, Three Scottish Colourists, February - April 1977
Through his still life painting, Samuel John Peploe experimented with the manipulation of colour and form. Working in his sun-drenched studio, the artist surrounded himself with potential subjects. As described by Elizabeth Cumming: 'Flowers in season, roses following on from tulips, partner ceramic bowls or vases, set against a length of beautiful fabric (sometimes purchased from the Edinburgh furnishers Whytock & Reid), all so carefully selected, arranged and rearranged time and again before brush was ever put to canvas.' (Elizabeth Cumming, S.J. Peploe, National Galleries of Scotland, 2012, p.69).
Around 1920, these arrangements served as the subject of Peploe's boldest compositions. This is when Peploe first began using gesso to prime his canvas to ensure vibrancy. Yet later into the 1920s, having mastered the application of pure pigment, Peploe began exploring the qualities of more subtle tones by employing a greater quantity of white paint. Red, Pink and Yellow Roses in a Blue Vase dates from the second half of the decade. Exhibiting significant developments from the earlier post-war flower paintings, the picture is a carefully constructed interplay of warm and cool tones. The entire lower half of the canvas is occupied by white, grey and blue, punctuated by an orange at the left-hand edge. This is balanced by the upper portion, a harmony of zesty flowers against an indistinct, almost abstract peach background. The play of natural light here is complicated by the inclusion of a mirror in the upper left-hand corner, whilst the rear glass vase refracts the edge of the drape. In order to bring volume to the subtle tones, Peploe adopted a looser handling of the paintbrush. This amounts to a more feathered texture which better describes the delicate nature of the petals and drapery. Peploe was challenging his skill as a colourist painter by creating a very sophisticated and complex composition.
Paintings such as the present form an interesting parallel with the artist's other focus during the 1920s, his landscape paintings on the Scottish island of Iona. Peploe regularly visited the Island with his friend F.C.B. Cadell, taking the opportunity to work en plein air. Though the weather often made exterior work difficult, Peploe continued to return in the summer months, turning his newly developed techniques to the rocky landscape. Cumming notes of the Iona paintings, 'More than any other place, Iona changed how Peploe worked, giving his art new cohesion and depth.' (Ibid, p.68). Indeed, it is evident that Peploe's experiences at Iona fed back into his still life work, with the pale pink and grey of the rocky coastline securing a permanent place in the artist's palette.
Samuel John Peploe (1871-1935) was born in Edinburgh, the son of a bank manager. After school, he entered a law firm but it soon became clear that his inspiration was art and he began to attend art classes at the Trustees Academy in the Royal Institution (now the Royal Scottish Academy). He studied in Paris at Julian's teaching atelier under the French classicist Guillaume Bouguereau and at the Academie Colarossi, where he won the silver medal in 1894. The following year he won the Maclean Watters Medal at the Royal Scottish Academy Life Class. In 1895, Peploe visited the Netherlands returning with reproductions of work by Rembrandt and Frans Hals, whose influence can be seen on some of his early portraiture. Similarly, influence from Dutch 17th century vanitas and still life paintings are evident in his still life paintings of the 1900s.
From 1901, Peploe took painting trips to northern France and the Hebrides, often with his friend, John Duncan Fergusson. He painted en plein air and enjoyed being part of the 'balance in the natural order' whereby the intellectual gave way to the instinctual. His paintings of this period are not over-thought but are immediate reactions to the beauty of nature. He developed the same modernist outlook as Cézanne. The same situation could provide limitless subject matter for him and this resulted in an increased focus on the aesthetics of the painting. This meant that his selection of what he painted was a vital part of the creative act.
Peploe's first solo exhibition was in Edinburgh in 1903 at Aitken Dott & Son, The Scottish Gallery. Peploe's grandson, Guy Peploe suggests that the reason for his first exhibition being relatively late in life (when he was in his thirties), 'can be explained by the lack of necessity: modest private means and lifestyle perhaps dulled professional ambition.' Perhaps more importantly, Peploe's 'natural introspection manifested itself in an obsessive need to practise, to observe and contemplate'.
From 1904, Fergusson and Peploe began to spend the summer months in Normandy. Fergusson wrote of Peploe that, 'he tried … to find the essentials by persistent trial. He worked all the time from nature but never imitated it. I don't think he wanted to have a struggle on the canvas'. Their paintings of the period bare the same immediacy and direct response to their surroundings. By 1906, Peploe's brushstrokes had become looser and more vigorous in a spontaneous response to the landscape, that he loved. Peploe wrote of the French on holiday: 'They so enjoy life, largely in an animal way. That is why France is to me such a good holiday; it takes me out of myself – makes me more like them, more of a healthy animal.' He responded to this exuberance in his painting and, at the time, hated the introspection, self-consciousness and oppressiveness of dull, ill-lit, Edinburgh. In a letter to his wife, Margaret, Peploe writes of the things he loves: 'freshness of colour, movement, life.' 'Not a cold arrangement but these living things – life, caught in the act; intimate, spontaneous.' He relished the freshness of conception and the perfection of simplicity. In his paintings of this period, the paint itself is as much the subject as the subject itself. The paint is textured and this gives an immediate effect of translucent light and the colour has tonal value which enlivens and intensifies the composition. His brushstrokes could not be over-manipulated as they would lose their quality and subsequently become over-worked.
From 1910 onwards, Peploe, Margaret and their son, William lived in Paris. Here, Peploe found a new confidence in himself and his art. There is a dramatic change in the intensity and exuberance of his colour palette and the certainty of line. He wrote to his wife, Margaret, from Edinburgh when he had returned there from Paris to try to sell some paintings: 'I feel so different from how I used to; far more decided in my opinions, with far more belief in myself … I couldn't go back to this house – this life: it all seems so dull. I had a real desire to get back to Paris today …'. In Paris, living at the centre of the art world, Peploe would have been aware of the radical changes that were occurring within the artworld. He was an admirer or Picasso and Chabaud, but being more introverted by nature, he did not pursue the themes of the avant-garde. Whilst he retained a clear vision for his art, the influence of Cézanne is evident.
By June 1912, Peploe was living back in Edinburgh. His work, which was seen as too radical for the Edinburgh audience, was shown in the Stafford Gallery, Duke Street, London and was successfully received. Peploe died in Edinburgh in 1935 and subsequently, along with Cadell, Fergusson and Leslie Hunter, became known as one of the Scottish Colourists. The Kirkcaldy Museum and Art Gallery and the National Galleries of Scotland hold the largest collection of Peploe's work.
© Copyrighted Material - Express permission is required for use / duplication of this work.