Chatterboxes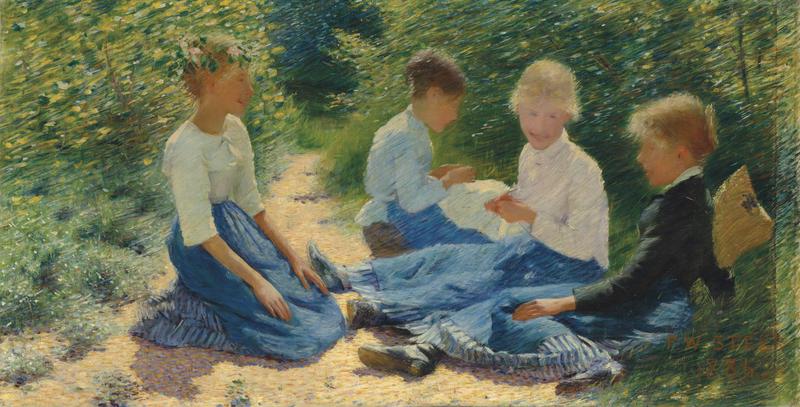 Philip Wilson Steer, O.M.
(1860-1942)
Chatterboxes
Signed and dated lower right: P W STEER/1886.
Oil on canvas
48.2 x 94.3cm., 19 x 37¼in.
Private Collection c/o Grant Ford Ltd
Recently bought on behalf of a Private Client (Christie's, London, 20 November 2018, lot 14)
Exhibition
Liverpool, Walker Art Gallery, Autumn Exhibition, 1886, no. 233
London, New English Art Club, 1887, no. 97
Paris, Exposition Universelle, (British Section), 1889, no. 146 as Les Bavardes
In Chatterboxes Steer utilised the same techniques employed by the French impressionists. He separated colour and even experimented with the radical effects of the neo-impressionists, believing that light would emanate from tiny touches of pure colour, fractured into small directional strokes that convey the sense of quietly rustling surfaces. He depicts the flickering sunshine in a French landscape and there is a sense of carefree, relaxation and joie de vivre in this evocative canvas showing the glowing faces of gossiping girls who are dressed in the same two-tone blue cotton that was in common use for ouvrière garments and school clothes throughout northern France. Closer inspection, however, suggests the possibility that Steer's four models may actually have been two girls painted in varied poses, depicting different sections of a conversation and thus, different aspects of the same character in a sequence of time. This conjecture tends to be supported by the fact that light falls on each of the figures from a slightly different direction. Despite these disparate light sources, the surface unity of Steer's work is remarkably naturalistic with directional strokes in the foliage carried into the figures, and a pointilliste stipple of red and blue brush-marks applied to the shadows. The repetition of figures gives an interesting abstract design, structure and colour creating rhythm and movement across the canvas.
Steer's painting created a sensation when it was first exhibited in 1886, in Liverpool, a city more open to extreme ideas in contemporary art. Chatterboxes was then shown at the New English Art Club exhibition in London. Its radicalism was not generally appreciated by the critics who could not understand it. The Illustrated London News suggested that the virtues of the painting were, 'obscured from our perception by the apparent smudginess or slovenliness of the method.' The Pall Mall Gazette was, however, more sympathetic and better informed – Chatterboxes represented 'flickering sunshine' in a 'French garden… in the eccentric manner just now affected by some of the 'Independent Artists' in the Champs Elysées'. ('Some Art Exhibitions', Pall Mall Gazette, 7 April 1887, p. 2). Another contemporary reviewer in The Daily Telegraph confirmed the characteristics of the work, noting the, '… flickering sunshine in a French garden', and girls in dresses of '…crude and violent blues … seated amongst bushes of equally violent greens and yellows', while, 'the whole of the canvas is covered diagonally with long lines and spots'. To the reporter of Building News the picture exemplified, 'the rapid development in England of the French School of Impressionism'. Chatterboxes reveals that Steer had sensed the importance of Pissarro and the Neo-Impressionist method. His admiration for Pissarro extended in May 1891 to a personal invitation through his son, Lucien, to the great Impressionist to show with the New English. At this point Lucien Pissarro wrote to his father that of all the club's members, Steer was the most radical. He observed, 'il divise le ton à notre façon et est très intelligent, c'est un artiste enfin!'.
Chatterboxes was in a French private collection for one hundred and twenty years before entering the current collection. This and other paintings by Steer at the time were seen as so radical or, more politely, 'challenging', that Steer only sold one or two of his early works. Often exhausted by his profession, Steer was at times close to giving up painting. He was an independent, somewhat reclusive artist who stayed out of the limelight and was aloof from academic circles. Official recognition did come to him, unsolicited but welcome, and he was awarded the Order of Merit in 1931. He taught at the influential Slade School of Fine Art from 1893 to 1930; influencing younger artists such as Augustus John, Gwen John, William Orpen, Stanley Spencer, Paul Nash and Anna Airy.
© Copyrighted Material - Express permission is required for use / duplication of this work.