Autoportrait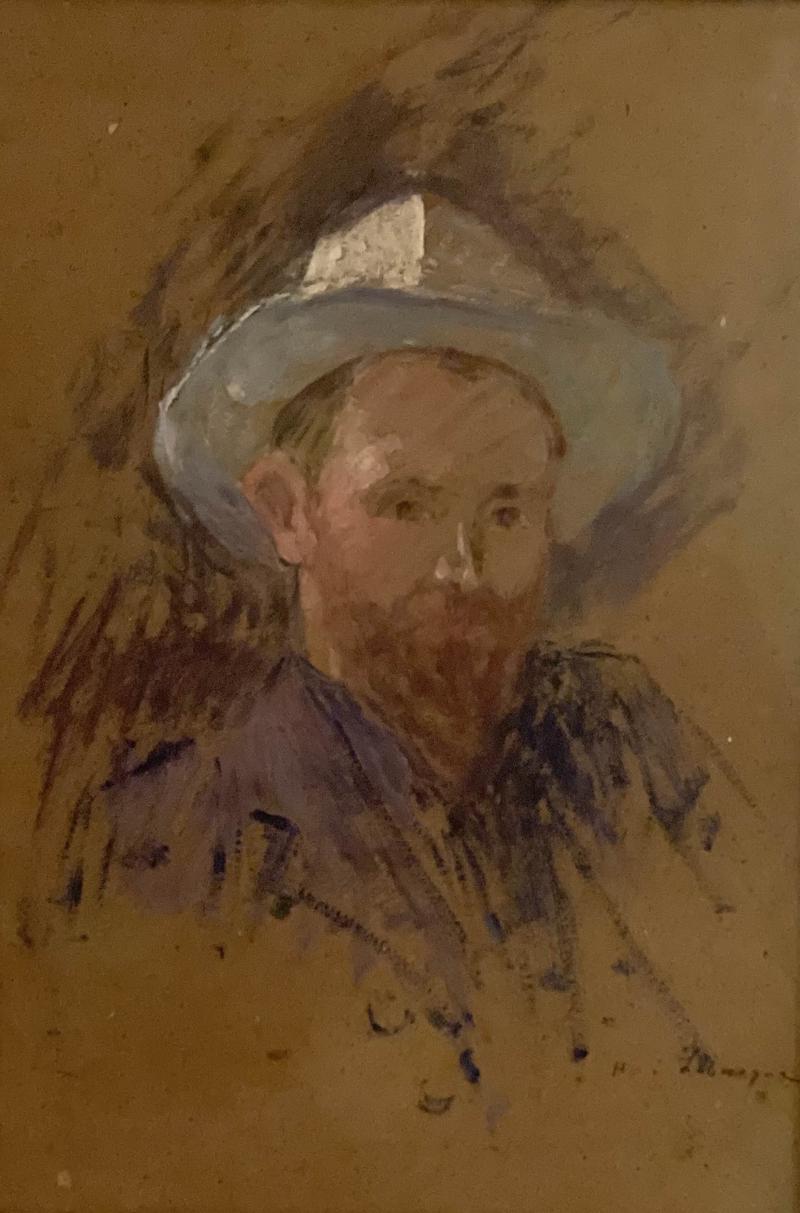 Henri Lebasque
(1865-1937)
Autoportrait
Signed lower right: H. Lebasque
Oil on board
40.6 x 28cm., 16 x 11in.
Private Collection c/o Grant Ford Ltd
In this self-portrait, Lebasque treats an oil sketch like pastel, employing dry, broad, quick brushstrokes, giving a chalky finish. It is reminiscent of Degas' pastels in the visible singular colours that create shade and light. A bright sunlight is evident in the cool white on the hat and the white highlight on the face and sheen on the nose, contrasted with the deep shadow of the rest of the face beneath the hat.
Henri Lebasque was a French post-impressionist painter greatly influenced by Camille Pissarro and Renoir from his early days as a student in Paris. Subsequently, contact with younger painters, especially Édouard Vuillard and Pierre Bonnard, founders of the Nabis Group, who favoured intimate, calm and quiet domestic subject matter, had a huge impact on his work. From Seurat and Signac he learnt the significance of colour theory, stressing the use of complimentary colours in shading. Lebasque was a founder member of the Salon d'Automne in 1903 and with Henri Matisse exhibited at the Salon des Indépendants, which first exhibited the work of Les Fauves.
Having discovered the Midi around 1906, the Mediterranean light was a revelation to him and his colour palette reflected this with his art becoming more luminous, vibrant and joyful. He chose to live a quiet and secluded life in Le Cannet where he settled from 1924. He was a family man and had a lifelong focus on tranquil, harmonious scenes of family life. He depicted his wife and children in his paintings set in interiors and gardens, around dinner tables, on river banks, in orchards and olive groves, bathed in the warm light and verdant southern French landscape exemplifying the fullness of life. Often the figures' features are undiscernible and his daughter, Marthe, commented: 'when people are included in a landscape they form part of the atmosphere and the surroundings that he sought before all else to recreate. The expression of the faces then has less importance.' He often painted sensuous female nudes and employed complementary bold colours – vibrant yellows, warm pinks and oranges - balanced with cooler lilacs, mauves and blues.
© Copyrighted Material - Express permission is required for use / duplication of this work.